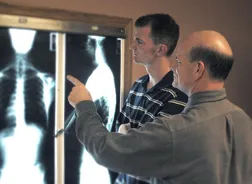 For almost all patients, the chiropractic doctor will shoot full spinal X-Rays at least once. These full-spine radiographs are taken in the standing, weight-bearing position to fully substantiate the examination findings.The films will be developed and analyzed on-site and the doctor will review them with the patient.
X-ray films enable your doctor to visualize the entire structure of your spine. This is helpful in evaluating posture, joint and disc integrity, vertebral misalignments. X-rays are also helpful in ruling out any pathologies or recent fractures that may be contributing to the patient's condition.
X-rays are an integral part of what makes a Gonstead adjustment so precise and effective.