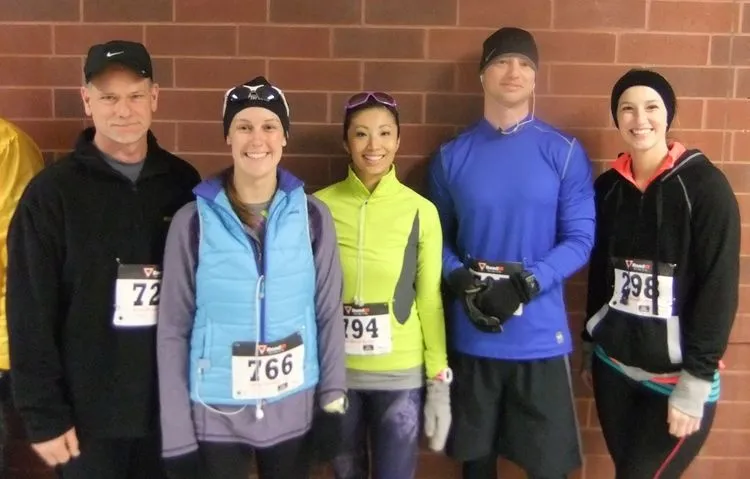 Dr. Christy, Ashley, Malea, Scott & Beth at the We Run Lucky Run 5K & 10K in North Liberty. It was a chilly start to the 2014 racing season, but still a beautiful day to run 6.2 miles!
Market to Market Relay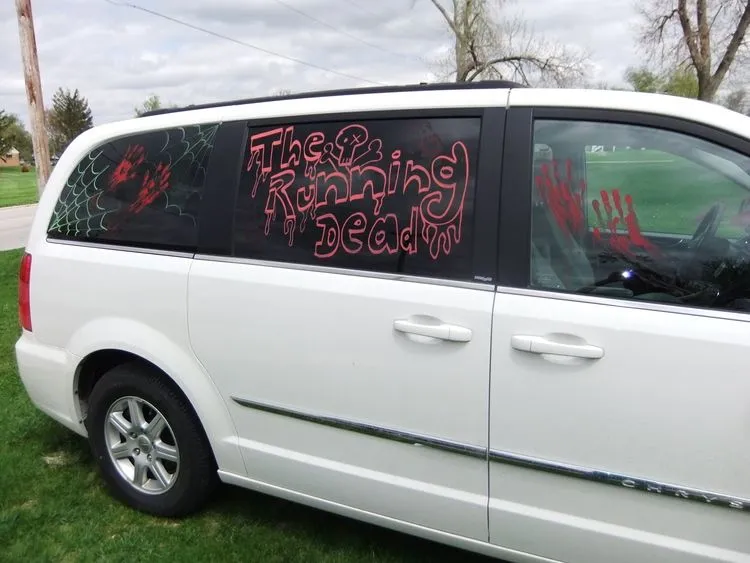 Perhaps VCC's craziest running endeavor to-date was the Market to Market Relay, a 75 mile-7 person team-17 exchange point relay race from Jefferson, Iowa to downtown Des Moines, Iowa. Our team consisted of VCC's "usual suspects" including Dr. Christy, Malea, her husband Scott, Ashley, Michael, Brett & Lesa. Ashley's husband Nate served as our "support crew" & drove the van & navigated. We were team The Running Dead. :)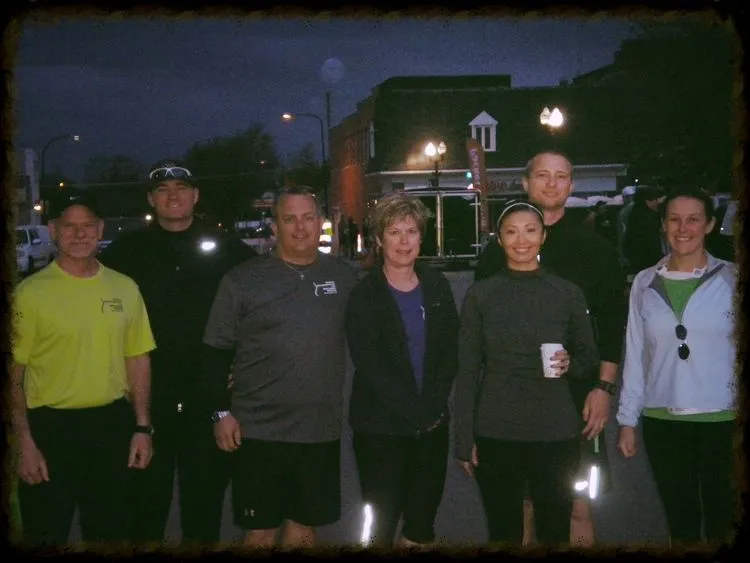 This is the crew at 6:30 am at the very start of the race, all fresh-faced & ready to start our 75 mile journey. Ashley ran the first "leg" of the race (roughly 5 miles). After she got started we all piled into our van & drove to our first exchange point where she passed our "baton" (our chip-timing bracelet) off to Malea for the next leg. And this continued the rest of day...we only got lost once! :)
Our first exchange point, a beautiful 1915 farmstead.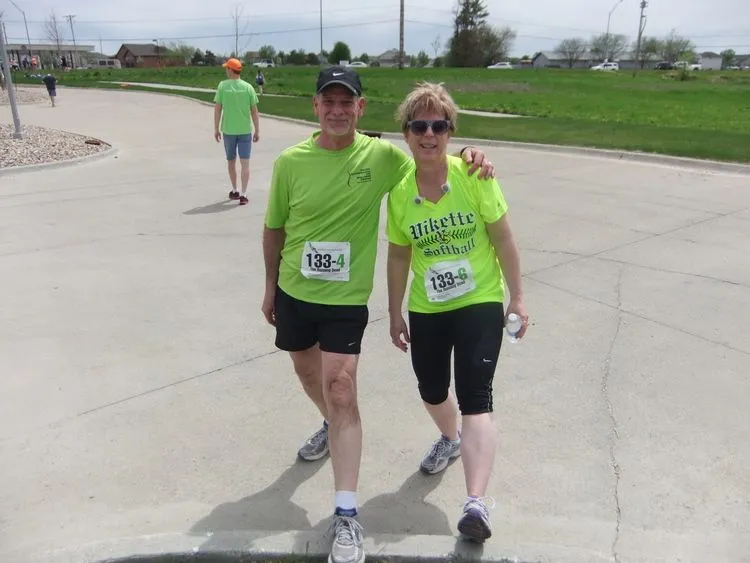 Dr. Christy & Lesa stretching out the calves!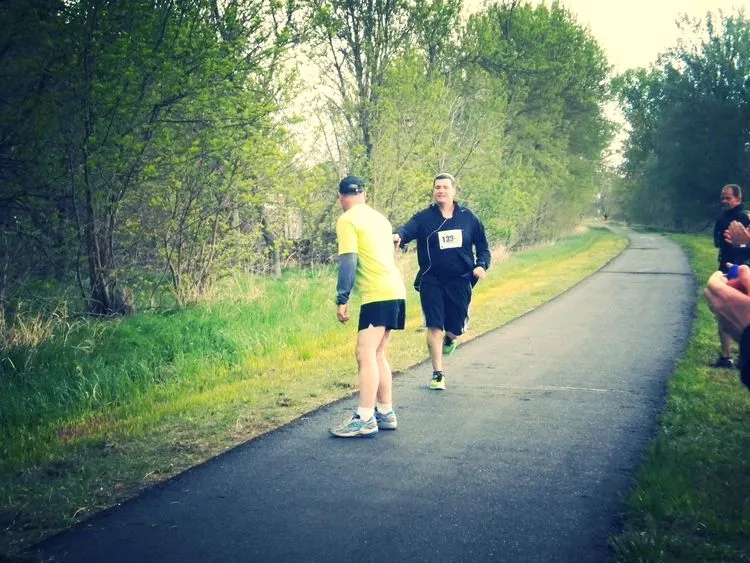 Michael handing the baton off to Dr. Christy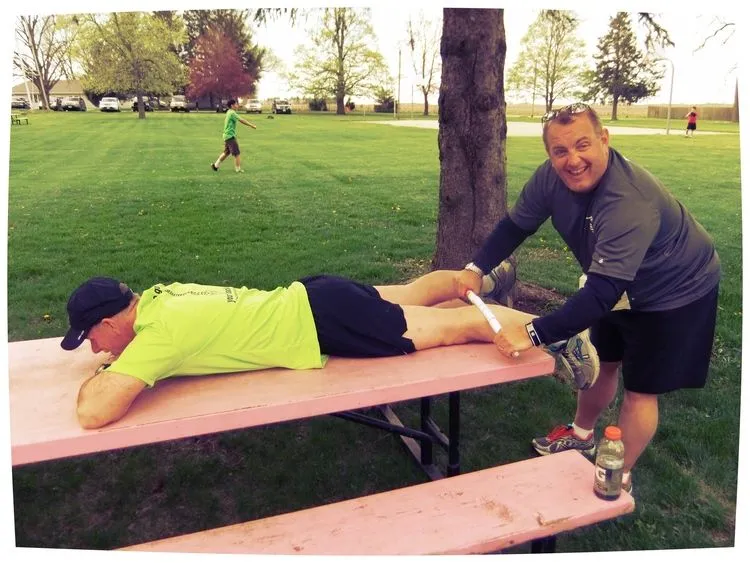 Dr. Christy getting the royal treatment for a change!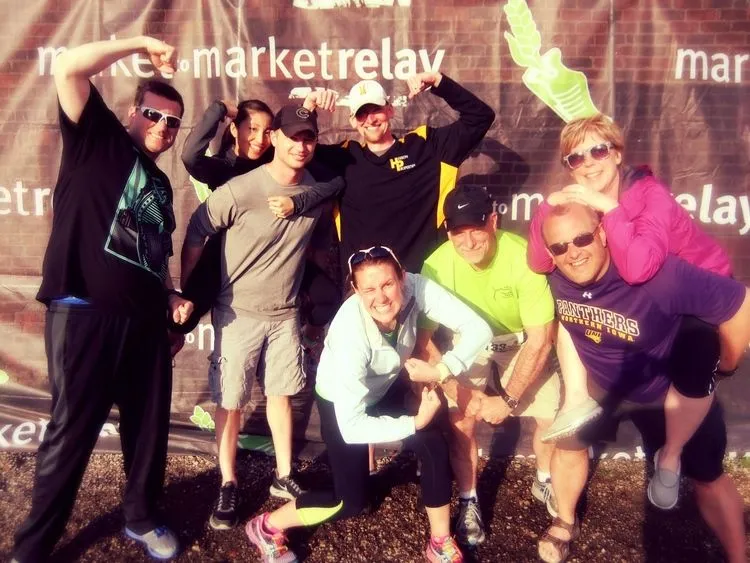 Yeah! We did it! We are all smiles after a long, 12 hour day of running!
For more pictures, check out our Facebook page!!!
Party in Pink 5K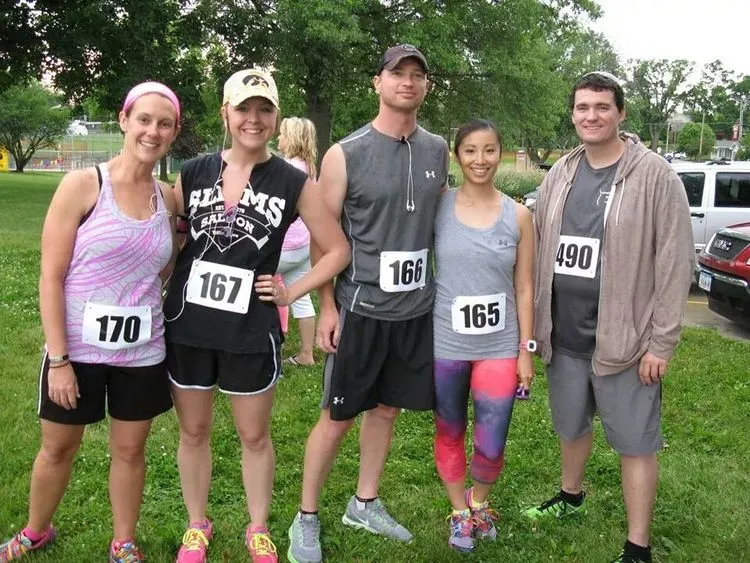 June race ~ Ashley, Stacy, Scott, Malea & Michael ~ Stacy is new to our office this year & this was her FIRST EVER 5K & she TOTALLY rocked it!!! Her goal was to run the entire course, which she succeeded in! Yay Stacy!
Bring the Noise 5K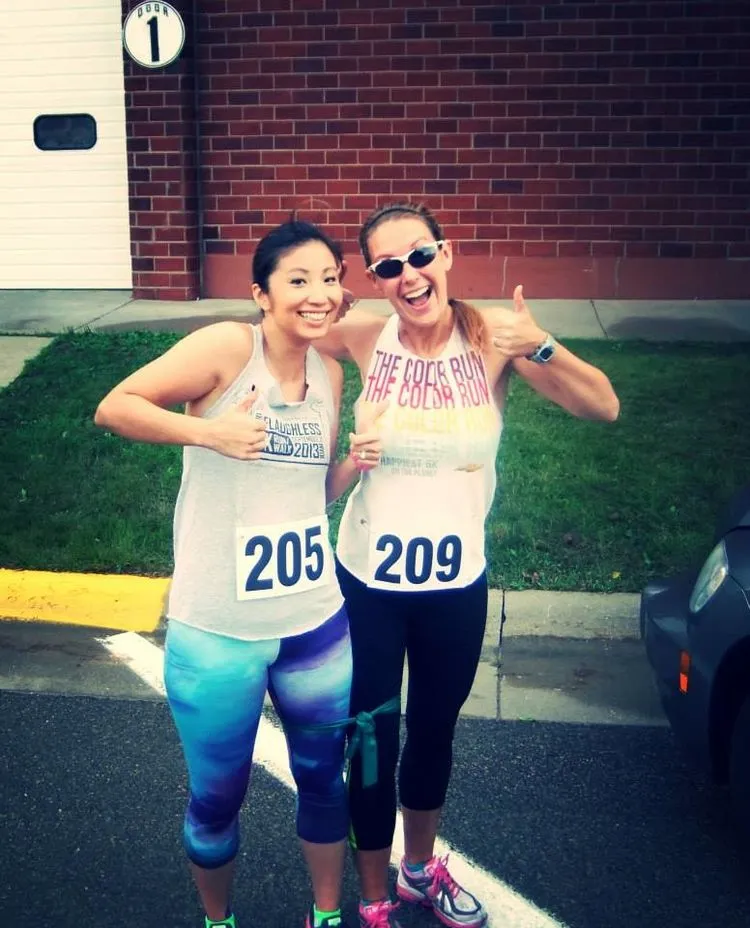 Last year, due to an injured ankle, Ashley pulled Malea in a wagon for this fun 5K. So, what should a healthy-ankled girl do this year to top the wagon shenanigans?? A 3-legged race of course!!! The run went very smoothly, despite lots of turns, a steep hill & a few curbs & they managed to stay up on all "three" legs! :)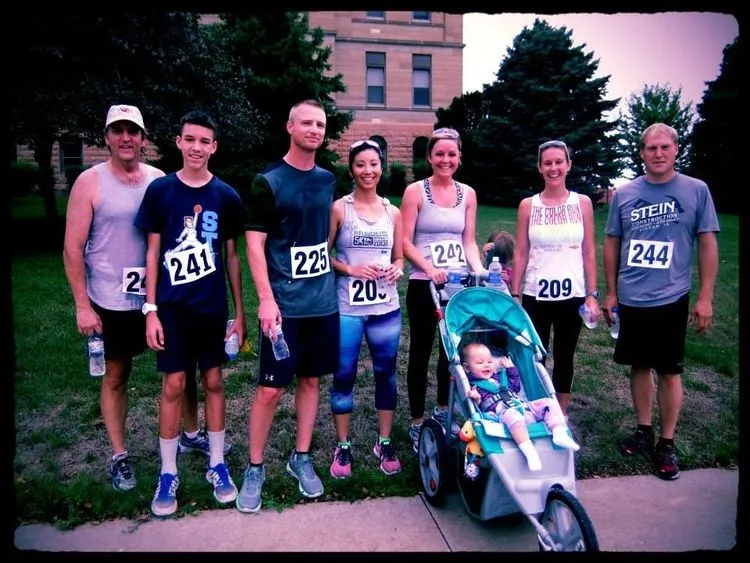 Doug, Bryce, Scott, Malea, Stacy (with baby Charlee in the stroller), Ashley & Dan ~ Unfortunately, Dr. Christy is still nursing an injury & has been unable to run with us since late spring. We hope he can join us this fall! Lots of medals were earned (6 in all) during this local 5K!
Park To Park Half Marathon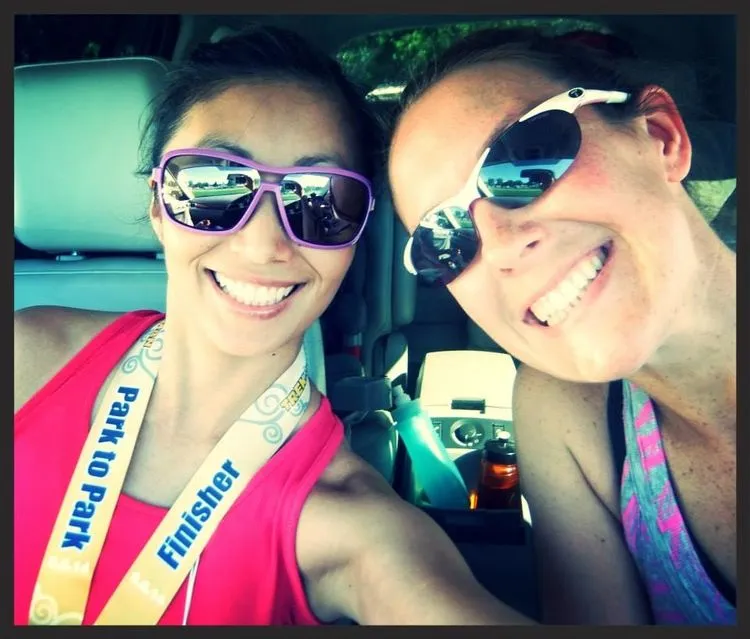 Malea & Ashley took on a new challenge in September and ran their first Half Marathon at George Wyth State Park. It was a beautiful, crisp September morning, perfect running weather & everything fell right into place. They finished strong with a faster time than anticipated of 2:09:30! The summer of grueling training was well worth it!
Stomp Out World Hunger 5K Trail Run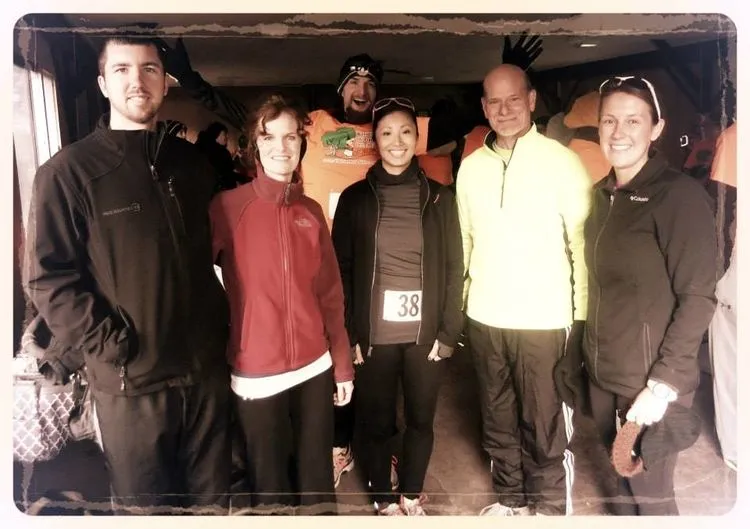 The crew getting ready to hit the trails! It was a family affair in October...Dr. Christy's son Jake, daughter Megan and her husband Ryan joined us for this fun run hosted by our local Pizza Hut. Ryan completed his first 5K & Dr. Christy & Ashley both won medals!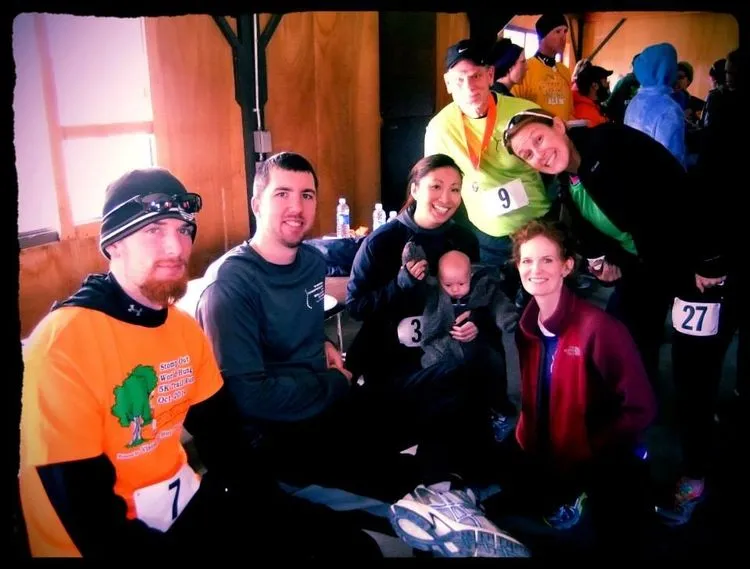 Post-run: Jake, Ryan, Malea, Liam, Dr. Christy, Megan & Ashley
Tour De Lights 5K
Our last race of 2014 was another local race hosted by the Vinton Cross Country team. The weather was beautiful, not a snowflake in the air or on the ground, which is uncommon for December in Iowa! We donned our finest flannel & grew our best beards for this festive evening 5K.