Our December race was the Tour de Lights on Sunday December 8 at 5pm in Vinton.
There was about 5 inches of snow on the ground, and it continued as the race started. This made the roads a bit slippery! But it sure was pretty! It was fun to run down the streets and not see tire tracks - only footprints everywhere! We went out with a bang: Christmas sweaters were worn, first 5Ks were completed, medals were won! A great ending to a yearlong challenge!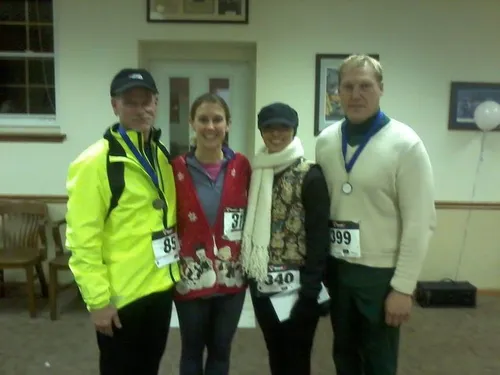 Dr. Christy (who shed his Christmas sweater at Mile 1), Ashley, Malea, and Dan (aka: "Cousin Eddy").
(Not pictured: Taraca and Dean)
Our November race was The Return of the Turkey Trot 8K on Saturday November 16 at 9am in Marion.
It was pretty chilly and a bit rainy but we were surprisingly comfortable once we got moving! It was a challenge to go the extra distance (about 5.05 miles total) but we made it! There wassome good turkey-themed apparel out there too - turkey hats, turkey shirts, an inflatable turkey, even someone in a turkey costume! Plus, there was a pancake breakfast free to all runners after the race! Shirts and food...always a good reason to race!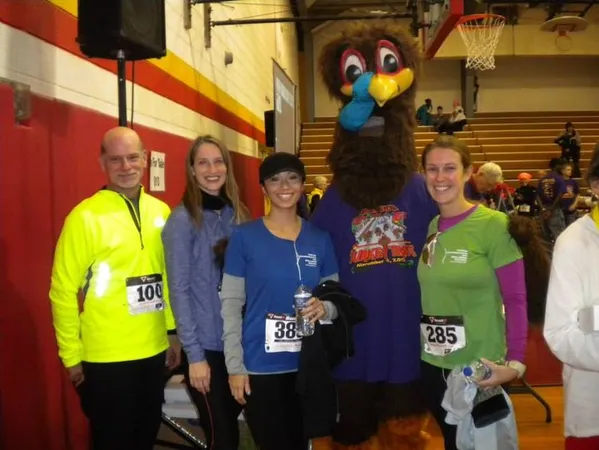 Dr. Christy, Beth, Malea, the turkey, and Ashley - post-race and post-pancakes!
Our October race was Saturday October 5 at 10 am at Roger's Park (just outside of Vinton): The Stomp Out Hunger 5K.
The race was sponsored and hosted by Pizza Hut - all proceeds were donated to fight world hunger...so we had a good reason to run the trails! The Pizza Hut manager even added an extra incentive to the runners: beat him, and win a free pizza!! There was a great meal served post-race too! Food is ALWAYS a strong motivator for us! What a great day and a great cause!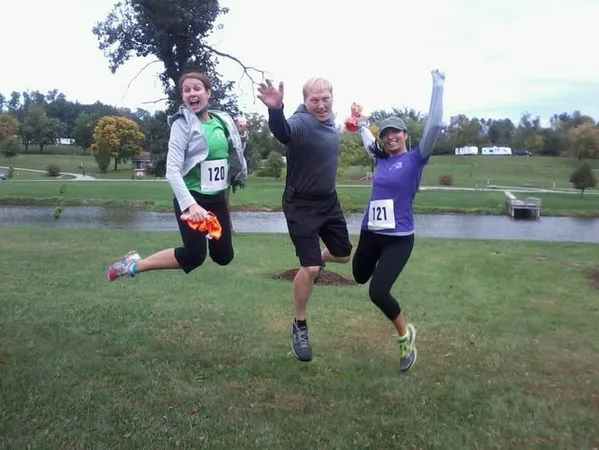 Ashley, Dan, and Malea gettin' some air before the race starts!
Our September race was the Flaughless 5K on Saturday September 21 at 10am in Vinton.
It was an absolutely beautiful, crisp morning to go for a 5K! And with over 600 participants, we had LOTS of company to enjoy the day with! The event raised over $15,000 for the Wounded Warrior Project too - what a great reason to complete 3.1 miles!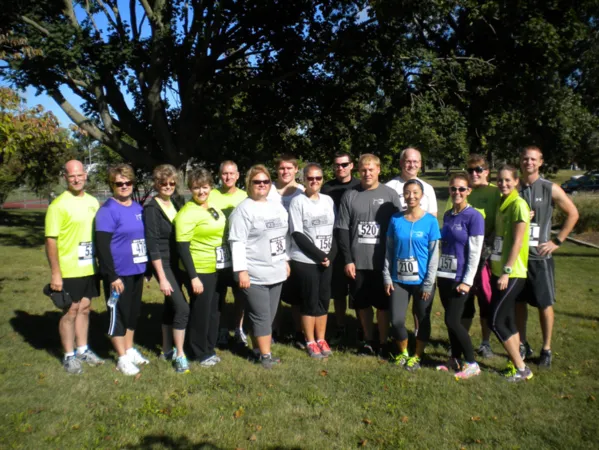 What a good lookin' group, eh?!
Our August race was the Bring the Noise 5K on Saturday August 24 in Vinton.
VCC had another great turn out and another handful of First-Time-5Kers! The weather was hot and muggy - so we were thankful for a relatively early start time! The Vinton Chiro group walked away feeling accomplished - especially the 6 runners who brought medals home (3 of them being gold, including Dr. Christy's)!!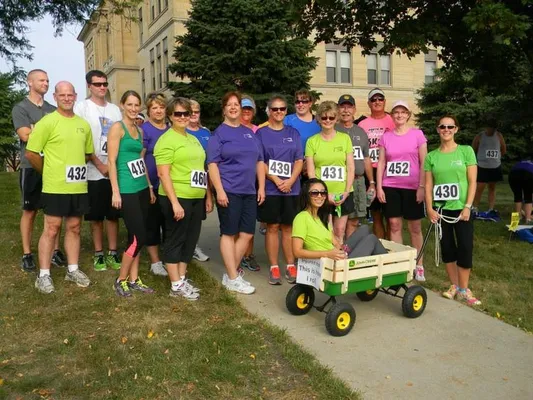 Our July race was the Firecracker 5K in Dysart on July 4th at 8am.
Yet another beautiful day for a 5K! Temps were comfortable and humidity was low for a scenic trip around the town of Dysart.We had a couple finishes in the top 3 of their age divisions and several door prizes were won (always a bonus!), and we even had a 1st 5K from one of our participants! A great day all around!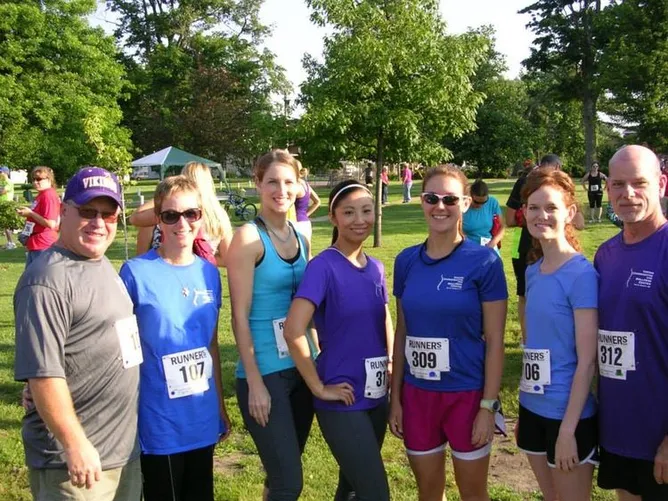 Dave, Brenda, Beth, Malea, Ashley, Megan, & Dr. Christy ready to jet!
Our June race was the Party in Pink 5K on Friday, June 28 (6pm) in Vinton.
We tried our hand (or feet) at an evening race this month and it was a challenge, but it was still great fun! There were over 650 runners/walkers for the 5K/1K and 22 of those were Vinton Chiro Crew (our biggest group yet this year)! It was a beautiful night with a good breeze to keep the bugs away! And hats off to the Benton County Breast Cancer Survivors for hosting a fantastic race (raising $8,500)!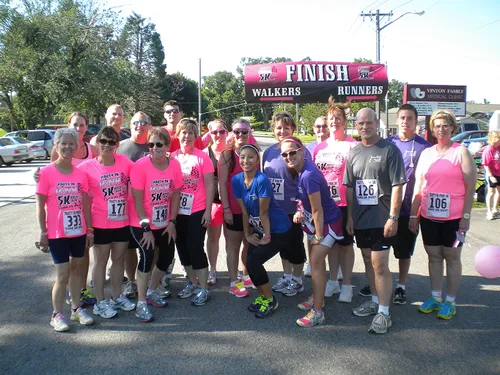 Our May race was the Marion Arts Festival 5K on Saturday May 18th at 7:30am.
It was FINALLY warm enough to shed the winter coats and running tights! It was liberating to go in shorts and t-shirts! We had a great time with a lot of people and got some great goodies in our participant bags too - a good race all around!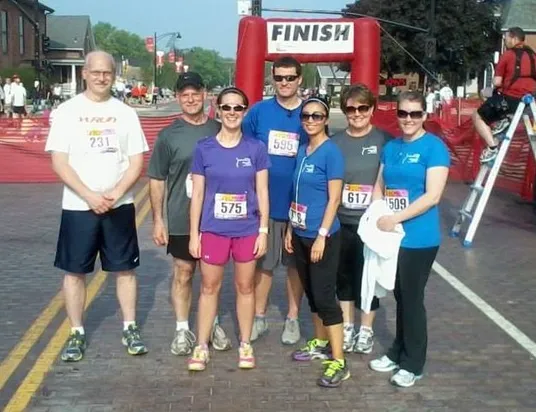 Jon, Dr. Christy, Ashley, Michael, Malea, Nancy & Abby - still standing after the race!!
Our newest 5K recruit, Donna, completed her first 5K ever in May! She had a great experience - cutting 9 minutes off her best training time and placing 3rd in her age division! Congrats Donna! Way to work for your goal!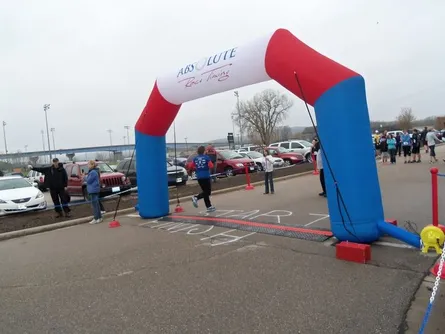 Donna crossing the finish line of her first 5K EVER!!
April's race was the Joggin' For Your Noggin' 5K (for the Brain Injury Alliance of Iowa) on Saturday April 13
The weather left a little to be desired this time: it was cloudy and windy most of the morning. But the course was mostly flat with 1 short, steep hill that we enjoyed going down the back side of for a good portion of the race. We all set personal bests (at least considering times within the past decade...!) so we're calling it a successful day!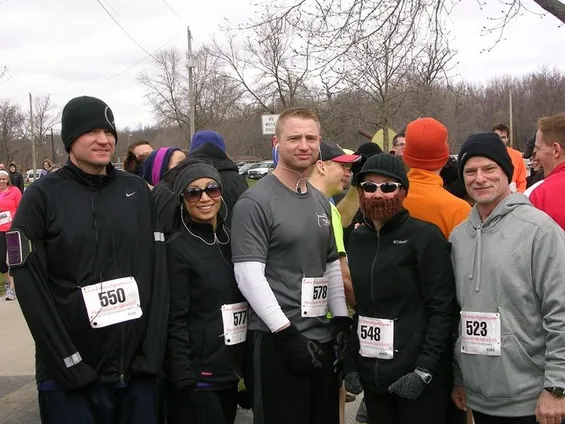 Michael, Malea, Scott, Ashley, & Dr. Christy anxious to start moving and get warm!
March's race was the We Run 5K - March 23, 2013
Our streak of beautiful weather on race day continued! The thermometer read mid-30's by the start of the race. Sunny skies and minimal wind made us all happy to be out! Just 24 hours later, there was 2 inches of blowing snow on the ground!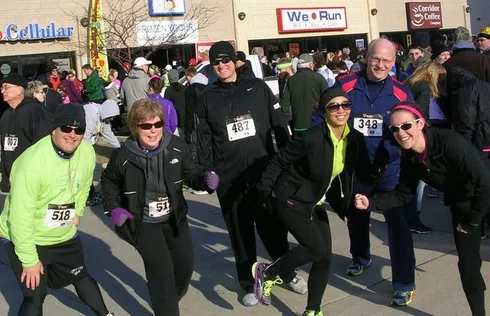 Brett, Lesa, Michael, Malea, Jon, & Ashley - getting their running moves ready!
February's race was the Red Flannel 5 Mile Run - February 16, 2013 @ 9:00am
The temperature was a bit warmer than January's race, hovering in the mid-20's, but again the sun was shining bright and the wind was calm. The race was very scenic (running up the hill to the state capitol was a challenge, but a nice view!) and the people-watching was unbeatable with everyone dressed in their craziest flannel!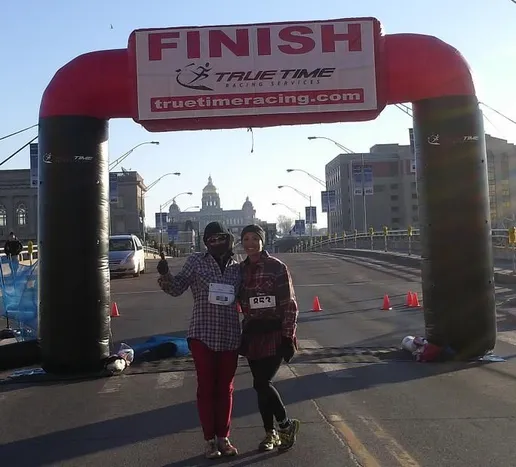 Malea & Ashley - sportin' the flannel!
Januray's race was the Amana Freezer 5K Run - January 26, 2013 @ 10:00am
The temperature was a bit chilly (about 15 degrees) but the sun was shining and the wind wasn't blowing! For January in Iowa, it could have been much, much worse!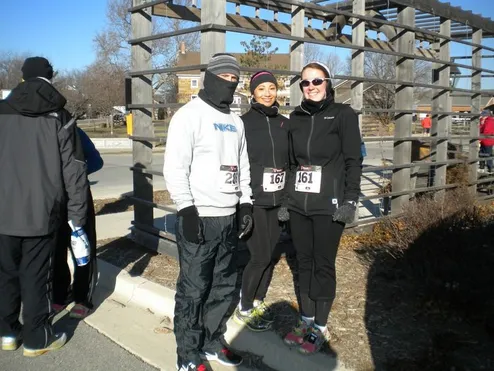 Scott, Malea, & Ashley - cold and ready to run!
Want to see more photos? Head to our Facebook page for a more extensive photo journal!